IN A SEA OF CONFORMITY,
ONE YACHT STANDS ALONE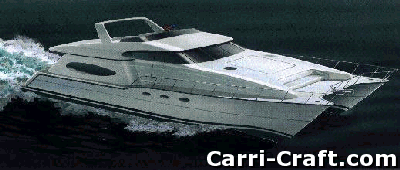 INTRODUCING THE ULTIMATE
CARRI CRAFT 656 SPORTYACHT
Unlike Single Minded Yachts, the CARRI CRAFT Design Will Give You Speed, Efficiently, Luxury and Value.

Before a yacht builder puts idea to paper, there must be a goal. The more exceptional the goal. The more exceptional the yacht. Introducing the 656 Sport Yacht by Carri-Craft. Echoing the "Italianesque" and catering to the wants and whims of today's discriminating yacht buyer, she takes the refinement of power, beauty and grace to levels monobulls simply cannot equal.

This exceptionally unique motor yacht performs smoother, faster, quieter and more efficiently than any other sport yacht you've ever experienced. And, with a bonus previously unavailable on multibulls.... unexcelled spaciousness and comfort.

Built on an 18ft. 10 in. beam, the 656 immediately charms you with her elegant spaciousness. A spaciousness you will not find in a similar length mono-bull.

---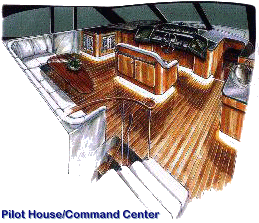 Entering the Pilot House and Command Center, you will be greeted by a helm that is a study in ergonomic efficiency. The twin helm seat is framed by independent hydraulically controlled steering and electronic controls. A panoramic view pampers you and your guests as you enjoy the beauty of the passing seascapes. Seating for six on the leather wrap-around settee, aft of the captain's position, provides the perfect conversation area. The wet-bar with icemaker to starboard completes this command centers' livability.

From the Pilot House, full height doors on both port and starboard open to beamy walkways; which lead to the foredeck for lounging or docking assistance. Center deck is reserved for an 8 ft. x 6 ft. sun pad flanked by opening portals to the Owner's Suite below.

Exit the pilot house up to the flybridge and the helm is again on-center and provides exceptional visibility. Instrumentation is designed with ergonomic sense and sensibility. All controls, switches and gauges are within easy reach of the helm seat.

You can pilot the 656 from below, but up top this exhilarating and exceptionally responsive 65 footer is in a class by itself. Remember, the Carri-Craft 656 is no trawler with sexy good looks. When the mood strikes, you throttle up and experience the same kind of efficiency, performance and responsiveness that makes catamarans the all-time champions on the APBA race circuit. The Carri-Craft's bulls are designed to knock down lateral roll and give you the stability a monohull can only provide when it's docked. You simply will not find a yacht of any other design that rewards you with so much driving excitement.


---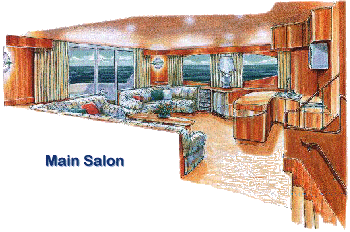 Aft of the pilot house you enter the 310 sq. ft. Main Salon... One of the 656s many first-class accommodations. Leather, lacquered woods, and exceptional fabrics throughout, combine in a spectacular, entertainment showcase... a quiet and pampering retreat. Going forward, the galley and dining area merge with the main salon as your "great room on the Main Water" with all the latest galley amenities.


---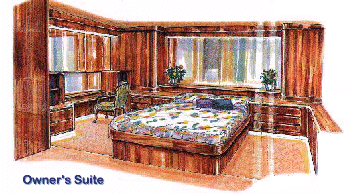 Forward of the pilot house is the owner's Master Suite, a 14 ft. x 16 ft. cabin designed to luxuriate you in comfort, convenience and, most of all , privacy. The king size bed has all-around built-in night stands, reading lamps and an elegant mirrored headboard. To port and starboard on the forward bulk head are two of the four full-length cedar-lined hanging lockers. Going aft on either side of the center sleeping accommodations, you will find a make-up vanity to port and a washer/dryer unit to starboard. Continuing aft are two additional hanging lockers for a total of 11 ft of wardrobe space.

---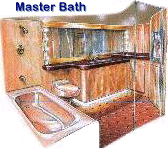 The en suite head as ample linen storage, full-size tub with twin shower heads, ceramic floors, vanity lighting and mirrors galore. Have we got your attention yet?

---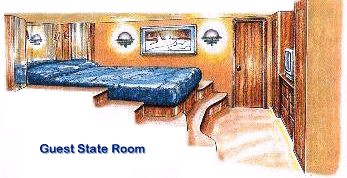 Back in the main salon and down to port you'll find the larger of two guest staterooms with a queen size bed, 9 ft. of wardrobe, built-in dresser and entertainment center. The end suite head pampers guests with a full-size shower stall, solid surface vanity and abundant lighting and ventilation.

A welcome surprise is that the 656s spacious accommodations give no hint you're in a catamaran. Most catamaran designs require guests to go ten steps down into "sponson state rooms" with cramped, limited space. The 656 will treat you to unexpected space only four steps below.

Down the starboard side from the main salon, you'll enjoy the convenient and spacious dayhead featuring the same amenities as to port.

Continue forward to the second guest stateroom complete with ample storage and full-length twin bunks. Generous lighting and ventilation make this a cozy and luxurious cabin retreat.

---
The 656 Sport Yacht by Carri Craft is a catamaran of exceptional design and performance. It provides an unprecedented combination of beauty, grace, luxury, performance, efficiency, ride and excitement.

Call the Carri-Craft team at (732) 295-3500 for more information and opportunities on ownership of this exceptional catamaran sport yacht.

Principal Dimensions

LOA				65 ft.
WATERLINE			58 ft.  3 in.
BEAM				18 ft. 10 in.
DISPLACEMENT			52,500 lbs.
FUEL CAPACITY			1000 gal.
WATER CAPACITY			240 gal.
HT. ABOVE WATER LINE		18 ft. 10 in.
DRAFT				3 ft.

List Price $1,300,000.00 when sold by VIT Inc
Home
Old Ads
Photos
Carri-Craft History
All Rights Reserved
Carri-Craft.com